Routine visage zéro déchet : se démaquiller en 3 étapes !
La clé d'un teint parfait ? Se démaquiller. Sans une bonne routine du soir pour éliminer maquillage et impuretés accumulées tout au long de la journée, vos pores s'obstruent et votre peau subit un vieillissement prématuré. Focus sur un geste beauté essentiel à intégrer dans sa routine beauté.
Pourquoi se démaquiller tous les jours ?
Vous l'entendez et le lisez partout : le démaquillage est primordial. le démaquillage permet de retirer efficacement tout le maquillage que vous avez appliqué. Laisser le maquillage sur votre peau pendant la nuit peut obstruer les pores, ce qui peut entraîner des problèmes de peau tels que des boutons et des points noirs.
Au fil de la journée, votre visage est exposé à la pollution, à la poussière, à la transpiration, et à d'autres particules indésirables. Le démaquillage élimine non seulement le maquillage, mais aussi toutes ces impuretés qui se sont accumulées sur votre peau. Pour protéger votre peau, faites le choix d'un démaquillant naturel et doux pour votre peau.
Étape 1 : Je démaquille
Le produit : L'huile démaquillante solide de Maison du Solide. Cette huile super démaquillante solide vous permettra de retirer votre maquillage avant le nettoyage de votre visage tout en douceur. Elle boost les cils grâce à sa formule concentrée en huile de ricin, démaquille en douceur et renforce l'épiderme. L'actif démaquillant présent dans la formule fera fondre votre mascara tenace à la vitesse de l'éclair et l'huile de macadamia préservera la souplesse de votre peau. 
L'accessoire : Les cotons démaquillants lavables Andrée Jardin. Ces cotons démaquillants lavables sont les alliés parfaits d'une routine beauté Zéro déchet. De haute qualité, ils sont fabriqués artisanalement en France. Ils sont composés d'une double-face en coton 100 % biologique, l'une en micro-éponge pour nettoyer la peau en profondeur et l'autre en molleton pour la nettoyer en douceur.
Le bon geste : Humidifiez votre visage et appliquez l'huile démaquillante solide sur votre visage, yeux et lèvres en mouvements circulaires. Retirez ensuite l'excédent avec un coton démaquillant imbibé d'eau claire.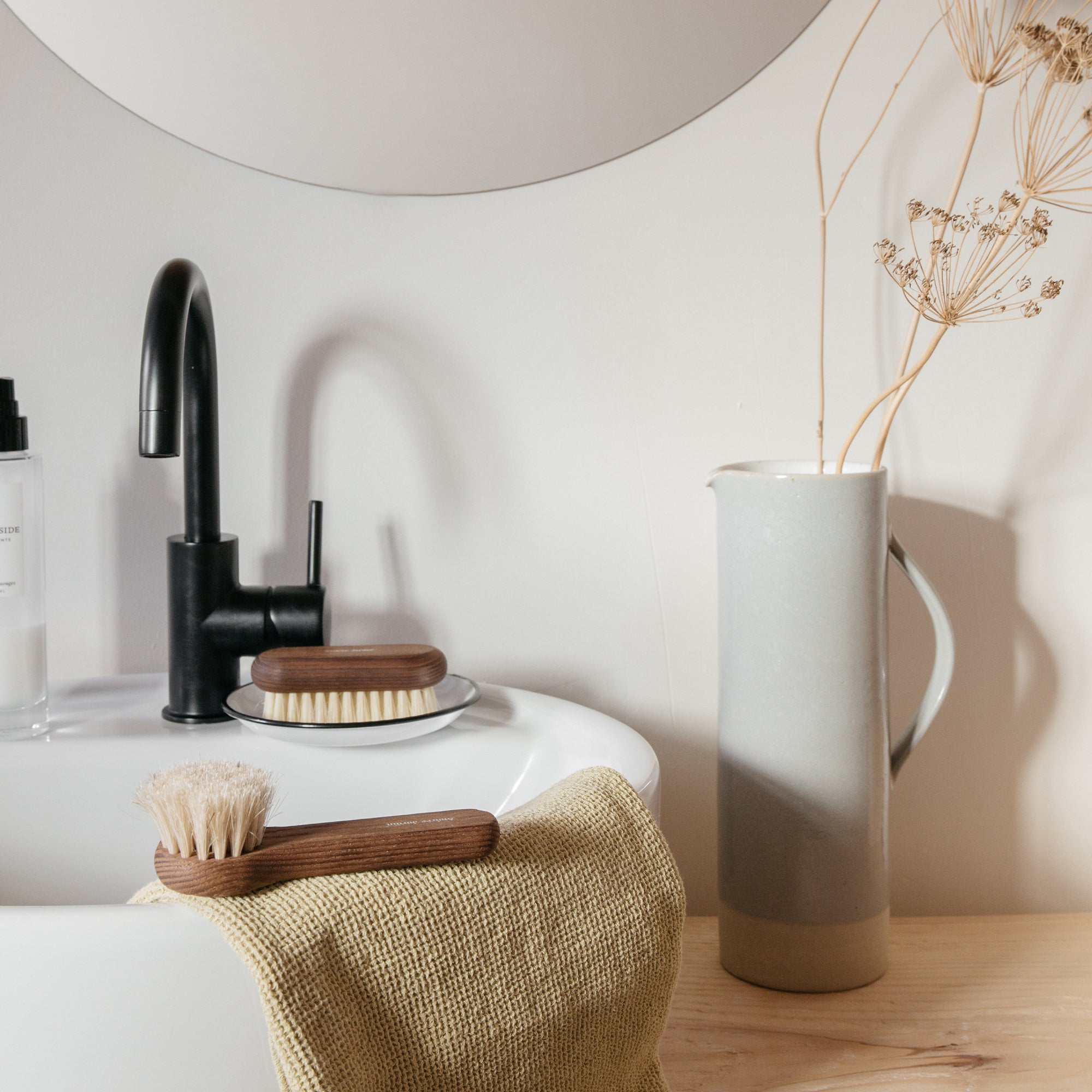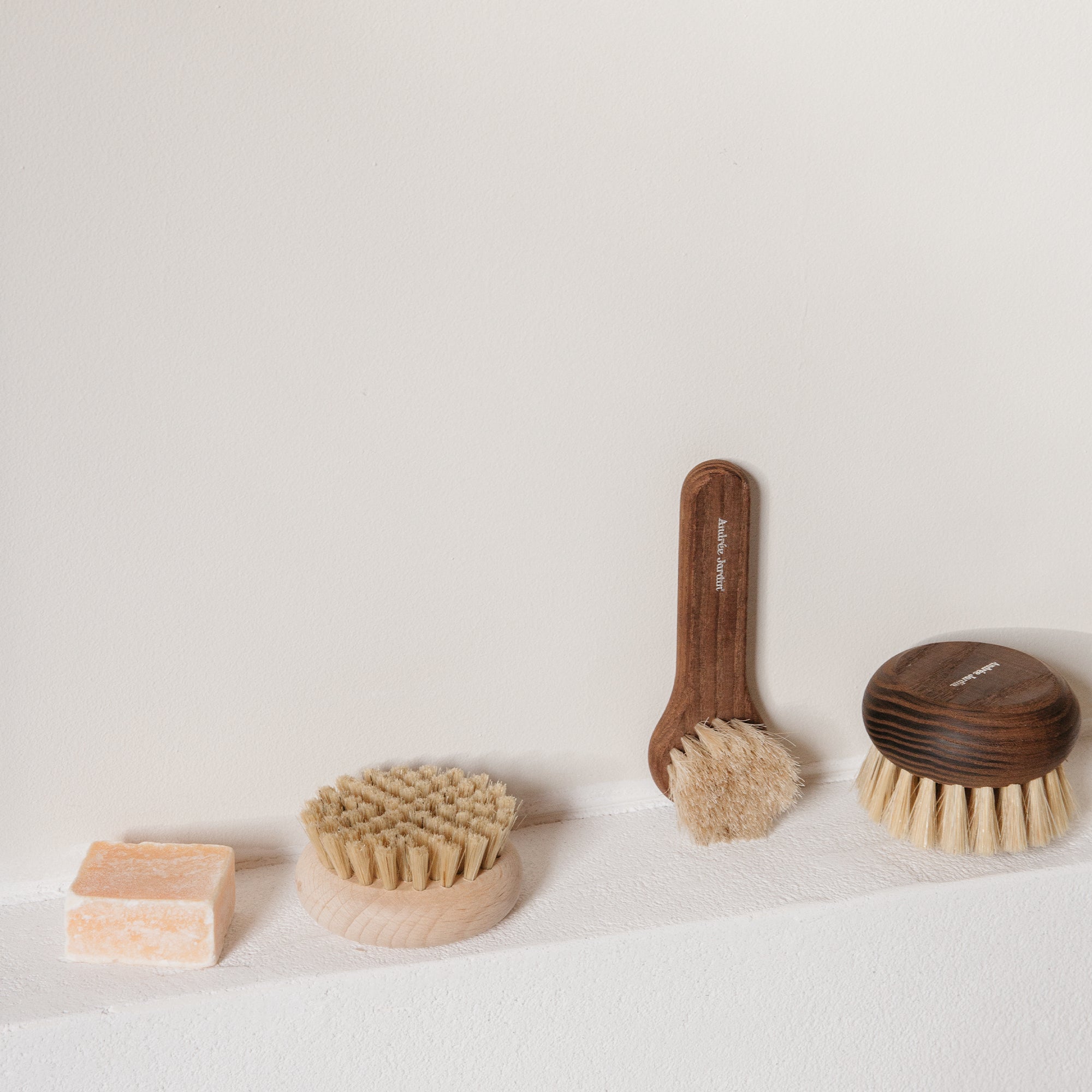 Étape 2 : Je nettoie
Une fois démaquillé, le travail n'est pas fini. Des résidus de maquillage et d'autres impuretés peuvent encore persister. 
Le produit : Le nettoyant visage solide de Maison du Solide. Nettoyant doux, il nettoie votre peau en profondeur, sur les couches supérieures de l'épiderme. Il préserve son hydratation et laisse une couche veloutée et douce sur votre peau. Enrichi en huile de noisette et de macadamia, des huiles spécialement choisies pour la peau du visage !
L'accessoire : La brosse visage douce Andrée Jardin. Une brosse visage 100 % naturelle d'une douceur exceptionnelle. Grâce à ses poils de chèvre extra fins, cette brosse toute douce nettoie délicatement la peau du visage. Elle est idéale à utiliser avec un savon solide saponifié à froid afin de désincruster les pores, nettoyer la peau et stimuler la circulation sanguine.
Le bon geste : Utilisez la brosse humide avec votre nettoyant pour tonifier et nettoyer la peau en profondeur. Effectuez des mouvements doux et circulaires pour un meilleur résultat et évitez la zone des yeux et de la bouche.
Étape 3 : J'hydrate
Une bonne routine démaquillage se termine forcément par l'hydratation. Qu'importe votre type de peau, vous devez lui apporter suffisamment d'eau. À partir de 25 ans, vous pouvez commencer à appliquer des soins de nuit adaptés à votre tranche d'âge. Elle boostera l'activité cellulaire, favorisant le renouvellement de votre épiderme tout en l'hydratant. Au réveil, votre peau sera lumineuse et rebondie. Et n'oubliez pas votre cou !
Que dois-je acheter pour me démaquiller efficacement ?
Pour un démaquillage efficace, vous pouvez envisager d'ajouter une Brosse visage exfoliante Andrée Jardin à votre routine de soins. Cette brosse a été fabriquée en France avec des matériaux responsables, ce qui est un excellent choix pour ceux qui sont soucieux de l'environnement.
Pour une utilisation optimale, il est recommandé d'associer cette brosse avec un savon solide saponifié à froid. Cela permet de désincruster les pores, de nettoyer la peau en profondeur et de stimuler la circulation sanguine.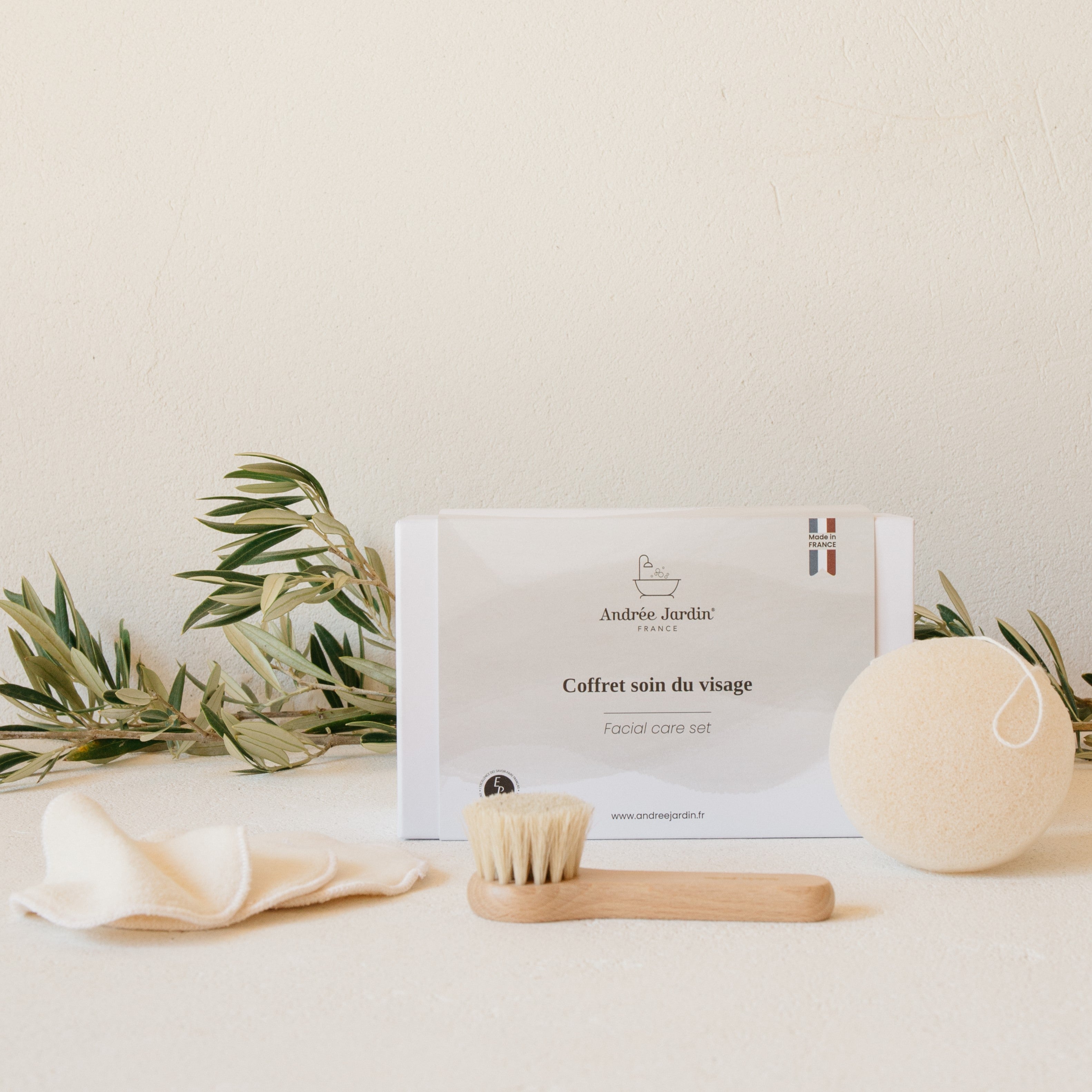 Le Coffret soin du visage
Un coffret pour prendre soin de votre visage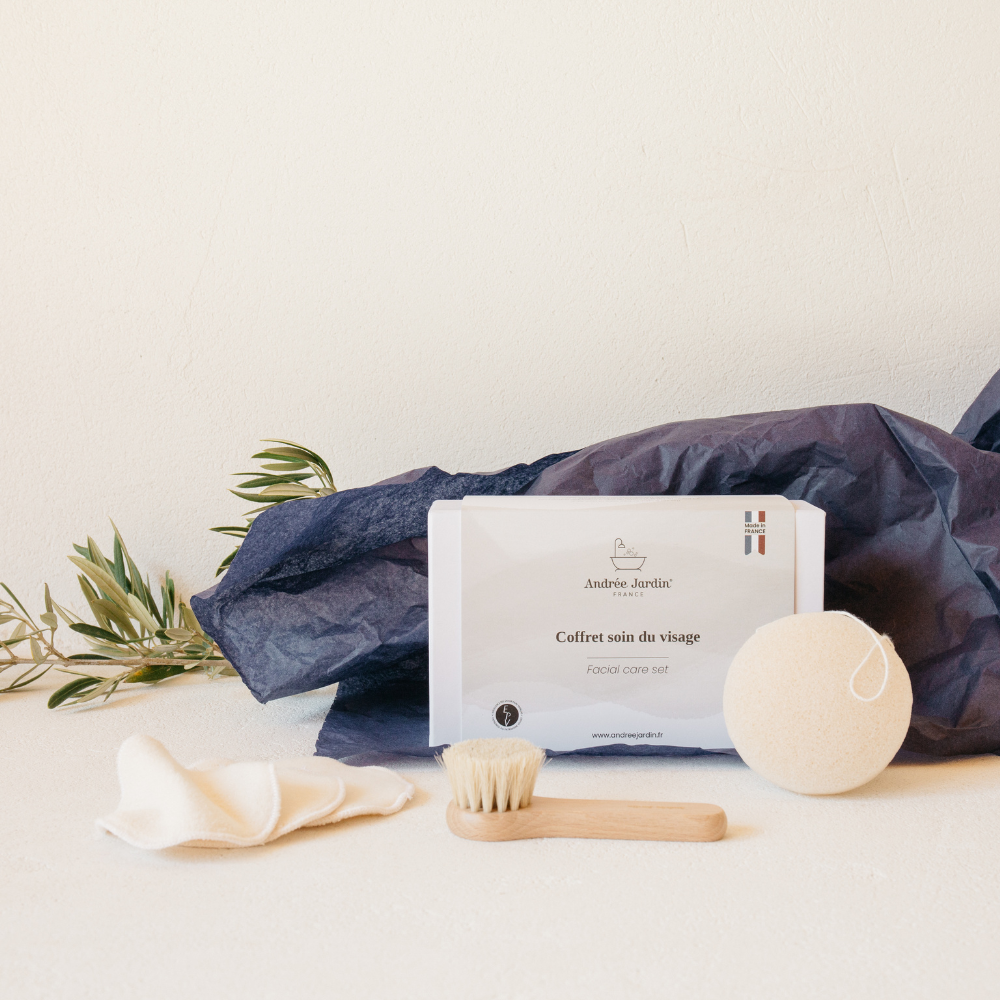 ---
This set will be ideal for taking care of your face. By following these steps, you will make your face soft and pleasant.
The washable makeup remover pads included in this set are eco-friendly and gentle on your skin for gentle makeup removal, helping to gently remove makeup, dirt and impurities.

Exfoliation is a key part of glowing skin. The exfoliating facial brush helps remove dead skin cells, stimulate blood circulation and improve skin texture. This also promotes better absorption of care products. Using a suitable facial soap with the exfoliating brush helps remove accumulated impurities, reducing the risk of clogged pores and skin problems.

The Konjac Sponge is a gentle, natural cleansing tool that perfectly complements your facial care routine. It gently massages your face, removing soap residue and leaving your skin perfectly clean and revitalized.
This box contains:
3 washable make-up remover pads (made in France)

Exfoliating facial brush (made in France)

Konjac sponge (made in China, country of harvest)
Just like your face, your hair needs natural care. This is why Andrée Jardin invites you to explore its hair care box .
Pickup available at Andrée Jardin - Treillières
Usually ready in 24 hours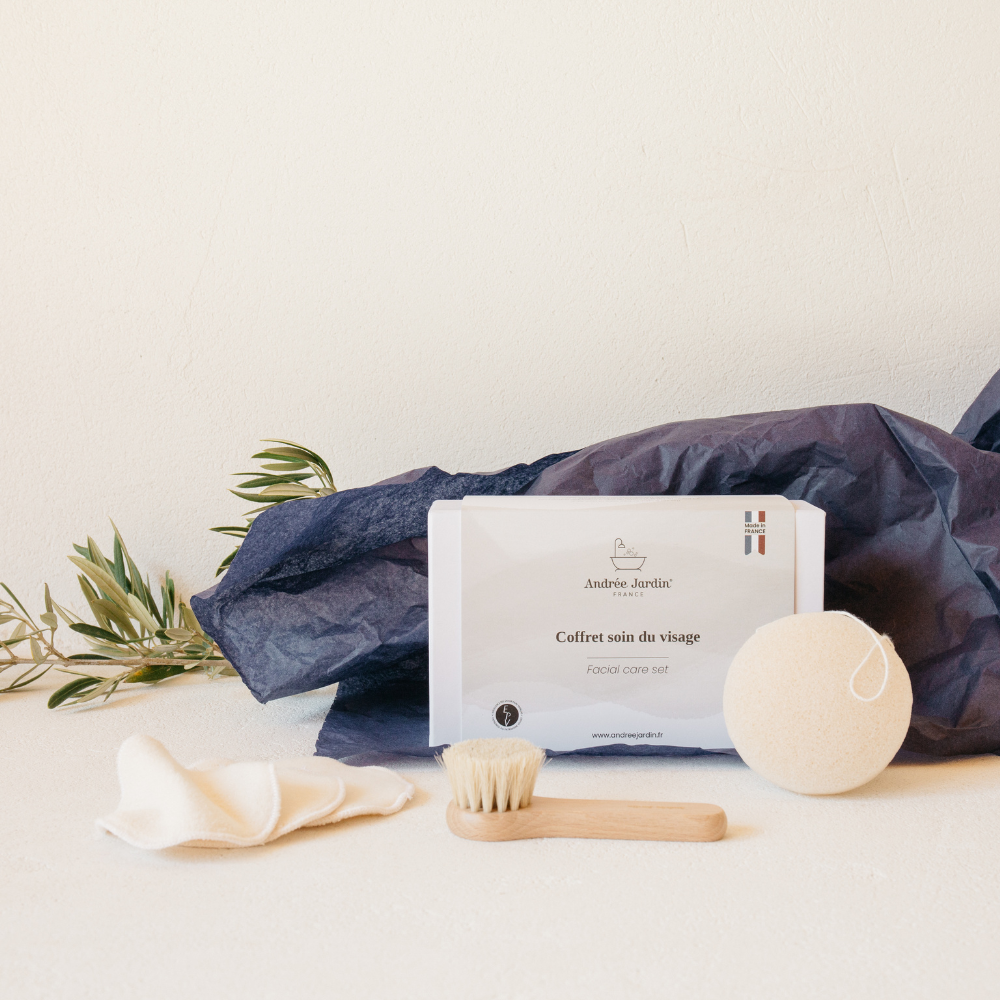 Andrée Jardin - Treillières